Guiding Council
Ohki Forest
Of Canadian Mohawk descent, Ohki is a vision-holder & spiritual teacher who has lived in Chiapas, Mexico since 1985.  She founded Red Wind Councils in Chiapas which supports Maya social justice projects & fosters the renewal of traditional spirituality. Founded 32 years ago by original designer Ohki Forest to encourage the recovery of the exquisite Maya ancestral crafts, Red Wind Councils' craft projects (CLICK HERE)  have brought the possibility of survival for hundreds of Maya craftspeople & their families.
Trained & initiated by Maya, Canadian & Mongolian shamans, she has taught a unified practice of ancient, Native Council ways & Spiritual Warriorship in North America & Mexico for 30 years. She is the author of DREAMING THE COUNCIL WAYS: True Native Teachings from the Red Lodge
, one of the foremost books on matrifocal shamanism today which links Earth ways with the indigenous vanguard of social justice. She is also a contributor to ORIGINAL INSTRUCTIONS: Indigenous Teachings for a Sustainable Future
.
Initiated into the Wolf Clan of the Iroquois Long House in 1980, Ohki's illuminating vision is the return of Council Ways through which all people can reclaim & renew the natural dignity, balance & justice that is the true dreaming of the Earth. Since 1985, Ohki has built & sustained 3 Medicine centers in Mexico & North America dedicated to the renewal of indigenous spirituality.
Ohki has been a keynote speaker at the Esalen Institute & Bioneers in CA, Denver University, Colorado College, Tesuque Pueblo's Indigenous Seed Sovereignty conference, the Vedanta Centre in Cohasset, MA, Beaming Bioneers in Santa Fe, NM, Unitarian Churches, Southwestern College of Santa Fe, & the NM 2012 conference: Wisdom from the Origins, with the 13 Grandmothers. In conferences throughout the U.S., she has taught for decades the necessity of women's leadership for planetary balance, & her humility, practical wisdom & deep knowledge of Earth Ways have brought inspiration to thousands.  Ohki sits on the Council of Spiritual Elders at the Gitche M'Qua Centre for Healing & Dying, a charitable organization in Toronto, Canada. The Council includes Ven. Dhyani Ywahoo, Cherokee & Buddhist Teacher & director of Sunray Mediation Society, & Roshi Joan Halifax, Buddhist Teacher & Founder of the Upaya Center in NM. www.ohkisimineforest.com



Eliberto Molina Jimenez
Eliberto is a Chiapas artist, musician & medicine healer from Maya Zoque roots. He was raised in an extremely impoverished environment, yet one of an awesome richness of culture which is almost lost today. Due to this, the cornerstone of his vision & work today is the pressing revival of his ancestral legacy. His powerful gifts in many fields were recognized by his people at a very early age & he was first taught by elders the making of traditional masks & wooden figures honoring the Maya spirits of his lineage. As a boy he was also initiated as a ceremonial drummer for community celebrations. Over the years he has become a masterful player of several pre-columbian instruments, including the ocarina flute & clay water drums native to Chiapas. Moreover, when he was a child, he was recognized for his healing gifts & would often be taken to heal others. He continues today to offer medicine Limpias (Maya healing of one's physical & spiritual fields), purification & healing ceremonies.  For the last 30 years, his masks, bone medicine pieces & carvings have been exhibited in North American & Mexican art galleries, & are sold at Red Wind events in North America throughout the year.
In addition to his medicine work & artistry, in years past, Eliberto has been instrumental in implementing sustainable projects benefiting rural communities, including agro-ecology farming, water & solar projects. He has also served as an advisor & coordinator of women's sewing projects & weaving collectives. Today he serves as an honorary spiritual advisor on Ohki Forest's Guiding Board of Red Wind Councils & Medicine Centers in Chiapas. He leads spiritual ceremonies such as drumming circles, medicine dances & sweat lodges.
"As an Indian, Red Wind Councils has given me a great opportunity to connect to the world & be able to freely express my vision of the ancestral, Native world I come from. This is of vital importance today that Natives share their gifts for there has been a tremendous loss of cultural identity & spiritual values in the Americas. Red Wind says to the world that there is a window full of hope. It opens onto a renewed Vision that is profoundly spiritual, & which is waiting for us to be reclaimed from the past & be given birth to help others in their seeking. The artistic projects at Red Wind & spiritual teachings that Ohki brings have been crucial for the past 30 years to help me ground & strengthen myself on the Red road & recuperate the threads of my history. Gathering all these threads gives the path of Life much more meaning for me to help create with other companions of Red Wind, & in my own humble way, a better future for the Coming Faces."
Amalia Ixmalé
Amalia Ixmalé, a 4th generation Maya healer & artist, is a gifted photographer, designer, jeweler & healer.
At the age of 7, Amalia initiated a project of creating one-of-a-kind semi-precious jewelry, donating the proceeds for school supplies for Maya children who had no paper, pencils, shoes or lunches for school. She continues this project to this day, creating beautiful jewelry that features the healing properties of jade, obsidian, turquoise, coral & other semi-precious stones, combining them in her exquisite necklaces, bracelets & earrings.
In 2014, Amalia began the ixmalé, Maya Textiles & Creations project, inviting Maya women to collaborate by incorporating traditional Maya weavings into contemporary designs. Her vision is to offer support to Maya women & their families through sales of these unique creations. Her name, Ixmalé, means Abundance of Corn in Maya Tzotzil. She gave this name to her ixmalé design project in order to call more abundance to Maya women.
With her healing gift, Amalia offers transformative Maya massages & facials for deep relaxation, transformation & wellness. She uses special Maya healing balms & oils in both full massages & those targeted to specific areas in need of healing attention. Her facials all use Mexican nopal for exfoliation & end with a specially compounded Honey-Rose facial cream & light massage. They also include a choice of Maya chocolate mask, Maya clay mask, or avocado mask depending on the specific skin condition.
Amalia supports the renewal of Maya spiritual traditions at Ohki Forest's Medicine centers in Chiapas through her participation in teachings & ceremonies there & in North America.
"As a child & now a young woman active in the unfolding of Red Wind Councils & Ohki's spiritual teachings, I have come to realize that my legacy of ancient indigenous wisdom is one of the strongest roots ever. I am fortunate to have grown up among the Maya people, supporting their amazing collective efforts for dignity & justice. I've received education, healing, inspiration, physical & spiritual support from Red Wind Councils & the Maya all my life. Through my ixmalé project & service with Red Wind, I'm able to give back to Maya women some of the abundance & blessings they've shared with me & the world."

Francisco Yolte' Perez
Francisco Yolte' Perez is a Maya Tzotzil indigenous from the highlands of Chiapas born in an extremely impoverished village in the mountains surrounding the valley of Jovel (San Cristóbal de las Casas). From an early age he faced & survived distressing adversities in his culture & community. As with so many Maya, he suffered marginalization, discrimination, injustices, extreme poverty, lack of education & fragmentation of his family while paradoxically being surrounded by the incredible abundance of natural resources of his homeland.
As a result of the many disparities he experienced, Francisco felt compelled from his early teenage years to engage in social justice work for his people. He has been a leader in the last 13 years in Red Wind's community efforts, actively involved in healthcare, education & agro-ecology projects that have dramatically improved the lives of several hundred families.
Since meeting Ohki Forest in 2001, he has pursued his own spiritual rediscovery through integration into the spiritual group & work at the Red Wind Chiapas Medicine Centers. Francisco serves year round at the 2 Chiapas Medicine Centers directing the eco-greenhouse vegetable projects at the Chiapas Centers which provide a leading model & learning center for others. Red Wind is also blessed to have his dedicated services as the full time caretaker & overseer of the Centers. As a Director on the Red Wind Chiapas Board, he is closely involved with daily operations, & due to his many connections, is an accomplished liaison for Maya communities with Red Wind.
"Many Natives, companions of mine, have realized through the spiritual teachings of Ohki's Northern Indian heritage that our ancestral Maya traditions such as Power Animal & Medicine ways, have common roots throughout the Americas. Her ways encompass so much more than what we learned in our communities. We also have learned through Red Wind that the conquest took away from us so many of our original spiritual traditions. Red Wind 's vision & projects have personally helped me heal many of these deep wounds through reconnection to my ancestral legacy & spiritual roots. This has made it possible for me to create a dignified & decent life out of the extreme hardships & poverty of my young life. Through my work with Red Wind, I'm able to help other indigenous gain similar opportunities of hope, justice & stability."
Founding Council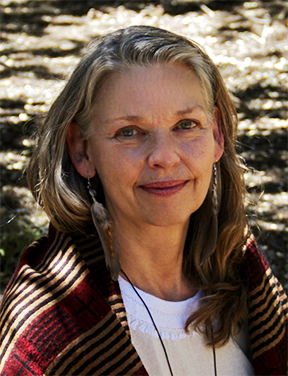 Patricia Worth
Patricia has been a registered nurse in the forefront of maternal-child healthcare & human rights work for over 40 Years. Based on her extensive clinical experience, she writes & teaches on combining ancient, alternative & allopathic approaches to well-being. A Founding Member & staff writer for Nurses for the Rights of the Child, Patricia received NOCIRC's Human Rights Award in 1998. Patty is an apprentice of Ohki Forest & has supported the spiritual medicine work of Ohki & the social justice efforts of the indigenous Maya since 1997.  She travels regularly to Chiapas to work directly with the people of RWC & hosts Ohki at the Red Wind Center in Santa Fe, NM.
"The dream of Red Wind Councils is to educate people about the non-violent struggle of the Maya indigenous to sustain their simple, dignified way of life. Applying the timeless wisdom of Council ways, Red Wind gives those who are more privileged real, strategic pathways to join in rebalancing some of the grave injustices the Maya suffer daily. Red Wind Councils provides an opportunity for people of all countries to learn from & directly support the Maya people in their spiritual renewal. The work of Red Wind Councils offers all of us tremendous hope for healing one of the great wounds of the Americas."
Mary Jo Fernandez
For more than 30 years Mary Jo has provided administrative services to both for-profit & not-for-profit organizations in a variety of industries.  She holds a Master's degree in Socially Responsible Business & Sustainable Communities from Goddard College & has been a small business consultant (www.wildgeeseconsulting.com) for the past 17 years. Mary Jo has served on the boards of several non-profit organizations & was a member of the corporation of the Vedanta Centre & Ananda Ashram for 12 years. She is the Treasurer of, & a consultant to RWC for the past decade, & has been an apprentice of Ohki Forest for 15 years.
Mary Jo travels regularly to Chiapas to collaborate in the ixmalé Maya Craft Project directly with the Maya indigenous weavers & crafters.  She also works to promote, sponsor & find venues in the USA to help continue the growth of this inspirational project that helps the people support their autonomy.
"The Maya people are the poorest of the poor in Mexico where they have been marginalized & persecuted for centuries.  Through my visits to Chiapas & work with Red Wind Councils, I've seen first hand the devastating effects of extreme poverty & globalization on these beautiful people.  I have also seen the amazing things that the people can accomplish, creating so much positive change with just a little steady financial support from us. I saw an alternative school being built by one community where children of all ages would be the first members of their families to become literate. Monthly pledges from donors helped support the basic needs of the teacher at that school while he received his training.  The people there receive Red Wind funds with so much gratitude; actually making our names a prayer in their hearts.  I pray that many more of you join us to bring the gift of hope to more Maya families in Chiapas."
Deborah Fernandez
Deborah is a professional chef & owner of Home Star Cuisine, LLC (www.homestarcuisine.com).  She has organized conferences, retreats, & workshops over the years for a number of non-profit educational & inter-religious organizations. She served for 2 decades in various capacities at the Vedanta Centre, an interfaith peace retreat in Cohasset , MA, as public speaker, special event coordinator, librarian, administrative assistant, & on the Board of Directors. She has been an apprentice of Ohki Forest for 14 years and began her study of Council Ways with Ohki in 2000 at which time she was introduced to the struggles of the Maya of Chiapas. These teachings provide the framework for her belief in the deep, underlying brotherhood & sisterhood of the human race, a belief that the work of RWC helps her manifest.
"It is so rewarding, a real joy, to provide support & encouragement for the Maya people of Chiapas. In truth, I have received more than I have given. Working with RWC & visiting Chiapas a number of times, I have developed deeper insight into how all our lives on this beautiful blue planet are truly interconnected. I have found tremendous inspiration working for the dignity & survival of the materially less fortunate Maya who are so rich in culture, tradition & spirituality."
Wendy Rose Jenner
Wendy has been a nurse for 40 years in both clinical & administrative roles, practicing in underserved communities. She has worked in hospice for 30 years as a nurse & educator. Wendy has broad experience with non-profits in creating & maintaining community projects, like food coops, cooperative housing & free clinics. She has done extensive work recruiting & managing volunteers. She spent 3 years as a volunteer administrator at an interfaith community & 5 years on the Board of Directors. Wendy has been an apprentice of Ohki Forest for 14 years & has been spending 4 months each year living in Chiapas at Ohki's Medicine Centers there since 2001, learning Native & Maya spirituality, & assisting with micro-clinics & other health projects.
 "The spirituality & healing practices of the Maya people drew me to Chiapas. Having seen first-hand the devastating effects that Western culture & economic globalization have had on the Maya, I feel privileged to be one of the founding members of RWC. We strive to bring a different kind of  "globalization"- that of respect, cooperation & deep humanity. The greatest gift of the Maya is the growing awareness in these times to let go of the isolation & individualism of the Western world.  The Maya offer us an opening to return to profound connection with each other & the Earth."
Honorary Council

Nancy Aleo
Nancy is an award-winning artist & Professor at one of the leading art colleges in New England. She is President of the Board of Trustees of an arts museum in MA & is involved with Boston arts councils. Nancy believes art is an essential component of a healthy society & has the power to heal. She holds an MFA in ceramics & for the past 25 years has focused on mixed-media painting & drawing. Nancy exhibits her artwork nationally & internationally. She has been traveling & studying in various parts of Mexico, including Chiapas, & for two decades co-leading student groups to Oaxaca & Puebla. Nancy is keenly aware of the systemic poverty & lack of dignity suffered by all the indigenous groups of Mexico.
"As a Bostonian, I have great access to top quality healthcare facilities & institutions of education.  In contrast, it is an injustice that even basic healthcare & education are simply not available to the indigenous Maya of Chiapas.  In my view, Red Wind Councils' varied programs & support offer real, practical solutions for transforming lives, & creating a more just, balanced environment."
John Woods
John Woods works as an investor & financial advisor. John has expressed his support of RWC through personal & family foundation donations, assisting with operating expenses & initiating a permanent endowment for Red Wind.  John also is a facilitator for the Transformational Breath technique that helps people re-connect with their life force. He lives in Breckenridge, CO & Los Cabos, Mexico.
"I was introduced to the Red Wind teachings nearly 13 years ago while traveling in Chiapas. I have always felt a strong calling in my heart to these Red Wind ways. I am honored to help support the spread of Red Wind knowledge & light."
Rúna Bouius
Rúna Bouius is an Icelandic entrepreneur, a conscious leadership catalyst, speaker & mentor. Her company, Rúna Bouius, (www.runa.la), focuses on the new era of leadership where the feminine principles are valued & re-instated & where the cultivation of becoming a conscious leader is at the forefront. A former business leader in the cosmetic industry in Iceland for 20 years, Rúna has immersed herself in an intense process of mentorship & training in various disciplines such as wisdom traditions, energy cultivating practices, & direct teachings from Nature. In 2011 she co-founded the Conscious Leader Network. She lives in Los Angeles.
"I have been  a supporter of the Red Wind Vision & Ohki's teachings for many years. I have visited Chiapas several times to witness first hand the positive effect of the various projects supported by Red Wind Councils. In meeting with the indigenous Maya people, listening to their stories & learning about their lives, I have been deeply touched by their gratitude & humility in the midst of their struggles for a dignified existence."
W. Brian Arthur
W. Brian Arthur is an Irish economist & leading thinker on issues of technology & global economy. He is also one of the pioneers of the new science of complexity. Arthur was formerly Morrison Professor of Economics & Population Studies at Stanford, & more recently was Citibank Professor at the Santa Fe Institute. Arthur has received the International Schumpeter Prize in Economics, the Lagrange Prize in Complexity Science, & an honorary doctorate from the National University of Ireland. He is a Fellow of the World Economic Forum.
"I have known Ohki Forest for over 25 years, & the Red Wind teachings have made a huge difference in my life. I greatly admire the work that Red Wind Councils is doing with the Maya people. Its efforts are helping bring full dignity & honor to the people of Chiapas."