Visions of the Earth: A Renewal of Ancestral Legacies
Red Wind collaborates directly with some of the most talented Maya artisans in Chiapas. Founded by original designer Ohki Forest (about Ohki) over 30 years ago to encourage the recovery of the Maya ancestral crafts, Red Wind Councils has brought the possibility of survival for hundreds of Maya craftspeople & their families. Today they are, more than ever, inspired & motivated to rediscover & re-create their ancient Maya designs in cotton weavings & embroidered textiles, pieces of clothing & accessories, medicine masks & carved bone medicine pieces, feather earrings, beaded work, semi-precious jewelry, & sacred items for altars. The result of this artistic support for Maya families is one of growing hope & stability. Their dreams are given life in their exquisite, one-of-a-kind, handmade works of art.

ixmalé
Maya Textiles & Creations
The vision of Amalia Ixmalé M. Forest (about Amalia) exquisitely combines ancient spiritual symbols & the traditional skills of Maya women weavers with contemporary designs, bringing Maya beauty into our daily lives. This emerging line includes exclusive pieces such as clothing (blouses, skirts, dresses, jackets & vests), table linens, traveling bags, & blends classic textiles & Maya visions with our modern needs.
Her name, ixmalé, means Abundance of Corn in Maya.
She gave this name to her project in order to call more abundance to Maya women.
Orders are accepted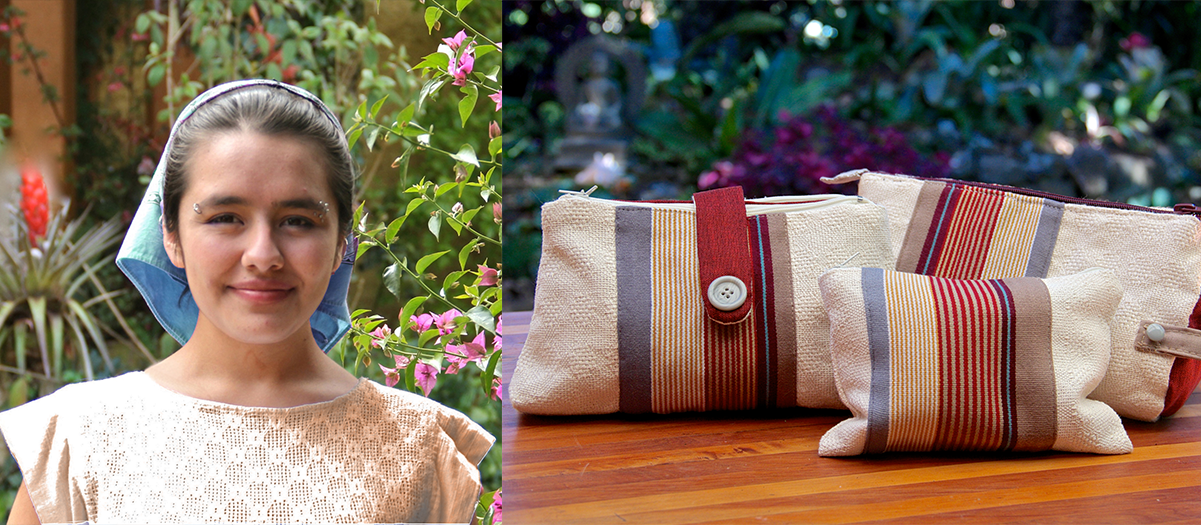 Begun at age 7, Amalia also continues her project of creating semi-precious jewelry, donating the proceeds for school supplies for Maya children who have nothing for school. Her exquisite jewelry features the healing properties of jade, obsidian, turquoise, coral & other semi-precious stones, that she combines in her exquisite necklaces, bracelets & earrings.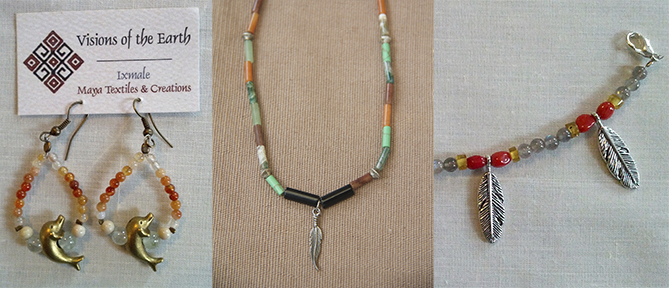 Maya Art & Medicine Pieces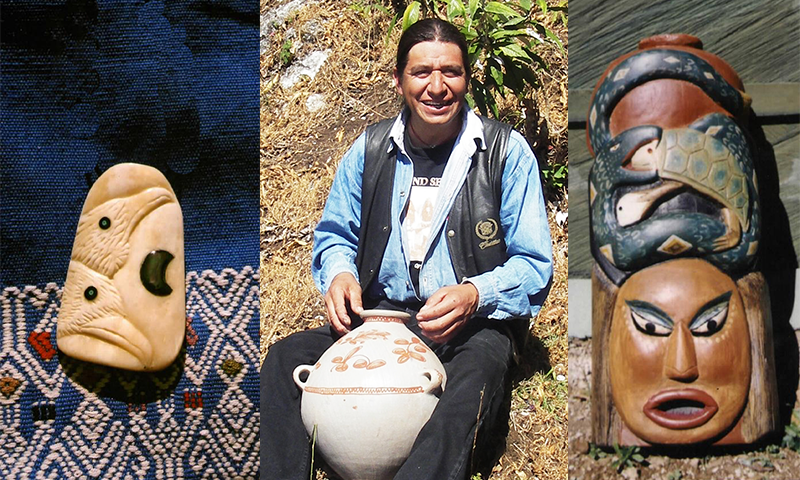 Eliberto Molina Jimenez (about Eliberto) is a Chiapas artist, musician & medicine healer from Maya Zoque roots. He was raised in an extremely impoverished environment, yet one of an awesome richness of culture which is almost lost today. Due to this, the cornerstone of his vision & work today is the pressing revival of his ancestral legacy. His powerful gifts in many fields were recognized by his people at a very early age & he was first taught by elders the making of traditional masks & wooden figures honoring the Maya spirits of his lineage. As a boy he was also initiated as a ceremonial drummer for community celebrations. Over the years he has become a masterful player of several pre-columbian instruments, including the ocarina flute & clay water drums native to Chiapas. Moreover, when he was a child, he was recognized for his healing gifts & would often be taken to heal others. He continues today to offer medicine Limpias (Maya healing of one's physical & spiritual fields), purification & healing ceremonies.
With the healing gifts of his hands, Eliberto creates a very unique & spiritual Native art. For the last 30 years, his masks, bone medicine pieces & carvings have been exhibited in North American & Mexican art galleries, & are sold at Red Wind events throughout the year.
Fair Trade Craft Events
Red Wind members periodically attend craft fairs to provide fair trade opportunities for the one-of-a-kind pieces of Chiapas artisans. We also host craft representatives who provide educational opportunities for people in North America to be exposed to these unique Maya pieces, & to learn of Maya culture & ancient indigenous traditions.
For information on the beautiful, one-of-a-kind Maya crafts & goods please contact us at pathways@redwindcouncils.org.